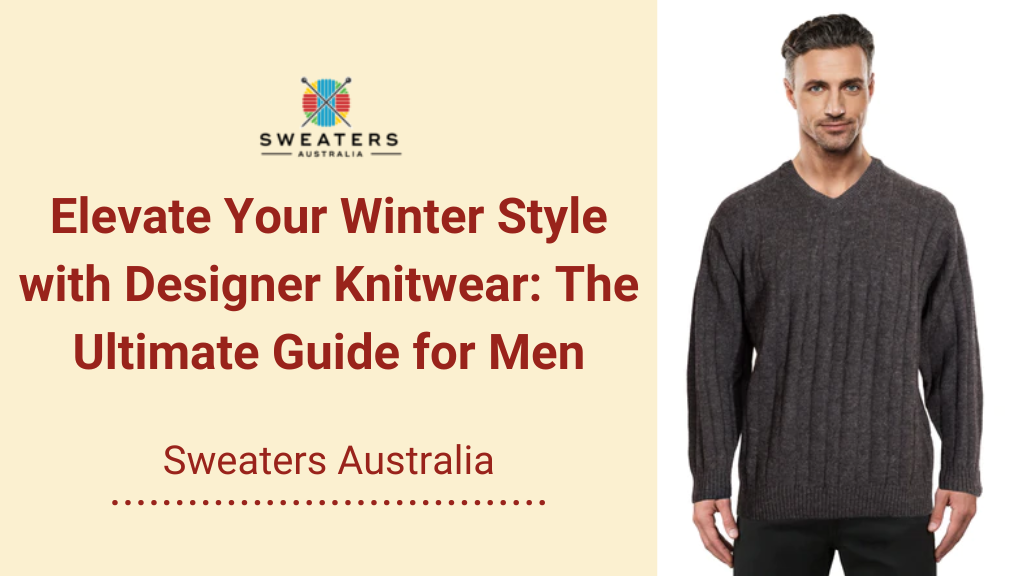 Elevate Your Winter Style with Designer Knitwear: The Ultimate Guide for Men
When it comes to upgrading your winter wardrobe, nothing exudes timeless elegance and comfort quite like mens knitwear. As the temperatures begin to dip, it's time to embrace the warmth and sophistication that knitwear brings to your attire. Whether you're aiming for a casual weekend look or a polished office ensemble, knitwear for men is a versatile choice that effortlessly combines style and functionality. This article delves into the world of men's knitwear, exploring its different facets and how you can incorporate it into your winter dressing with finesse. From designer knitwear to the latest sales, we've got you covered.
The Essence of Men's Knitwear
In the realm of fashion, knitwear holds a distinct place as a classic choice that's perpetually in vogue. Knitwear for men comes in a plethora of styles, textures, and designs, making it a wardrobe essential that seamlessly transitions between formal and casual occasions. Be it the suave appeal of a cable-knit sweater or the cosy charm of a cardigan, knitwear effortlessly combines comfort with sophistication.
Crafting Your Winter Wardrobe: Key Styles of Knitwear for Men
Sweaters That Define Elegance
The cornerstone of mens knitwear, sweaters are available in an array of patterns and materials. From timeless crew-neck sweaters that are perfect for layering to V-neck sweaters that add a touch of refinement, these pieces can elevate your winter style game.
Cardigans: A Blend of Comfort and Versatility
Cardigans are the epitome of versatility in knitwear. They can be worn over a dress shirt for a polished office look or layered with a t-shirt for a casual weekend vibe. Explore the world of cardigans, and you'll discover a myriad of choices, from chunky knits to lightweight options.
Turtlenecks for Unmatched Sophistication
When you think of mens knitwear, turtlenecks instantly come to mind. These high-neck wonders provide both warmth and style. Pair a turtleneck sweater with tailored trousers and boots for a refined appearance that's ideal for chilly days.
The Charm of Cable-Knit
Cable-knit sweaters exude a rustic yet refined aura. The interwoven patterns add texture and depth to your outfit, while the chunky knit provides insulation against the cold. A cable-knit sweater paired with jeans and boots creates a rugged yet fashionable look.
Incorporating Designer Knitwear Mens into Your Collection
Embrace Timeless Luxury
Designer knitwear for men goes beyond just keeping you warm; it's a statement of luxury and craftsmanship. Brands like [Brand Name] offer a range of designer knitwear that combines impeccable tailoring with premium materials. From cashmere-infused creations to intricately patterned designs, these pieces reflect a commitment to excellence.
Elevate Your Ensemble
When you invest in designer knitwear mens, you're investing in the finer details that set your outfit apart. The attention to detail, unique textures, and exclusive patterns create a distinctive allure that's hard to replicate. Pair a designer knitwear piece with tailored trousers and leather shoes for an ensemble that's truly exceptional.
Exploring Men's Knitwear Sales: Style and Savings
Finding Knitwear Mens Sale Events
Winter is synonymous with sales, and knitwear is no exception. Keep an eye out for seasonal sales events where you can snag remarkable deals on knitwear for men. These sales not only allow you to enhance your wardrobe but also provide an opportunity to explore different styles without breaking the bank.
Quality at a Fraction of the Price
Mens knitwear sales events often feature high-quality pieces at significantly reduced prices. This allows you to indulge in luxurious materials and impeccable designs without straining your budget. Remember, a well-crafted knitwear piece purchased during a sale can become a wardrobe staple for years to come.
Tips for Navigating the World of Winter Knitwear
Layering for Practicality and Style
Layering is a quintessential technique during the colder months, and knitwear plays a pivotal role in this strategy. Experiment with different combinations, such as pairing a turtleneck under a blazer or a cardigan over a crisp shirt. This not only adds visual interest to your outfit but also keeps you warm and comfortable.
Playing with Patterns and Textures
Mens knitwear offers a canvas for experimenting with patterns and textures. Mix and match different knits – combine a chunky cable-knit sweater with a finely ribbed turtleneck for an intriguing contrast. Play with colours that resonate with the season, such as deep earthy tones or classic neutrals.
Conclusion
Men's knitwear is a sartorial investment that transcends seasons and trends. From the charm of classic sweaters to the opulence of designer knitwear for men, there's an abundance of choices to explore. As you navigate Sweaters Australia the world of knitwear, remember that it's not just about keeping warm; it's about crafting a style that reflects your individuality and appreciation for quality. So, embrace the versatility, luxury, and comfort that knitwear brings to your winter wardrobe and step out with confidence and flair.