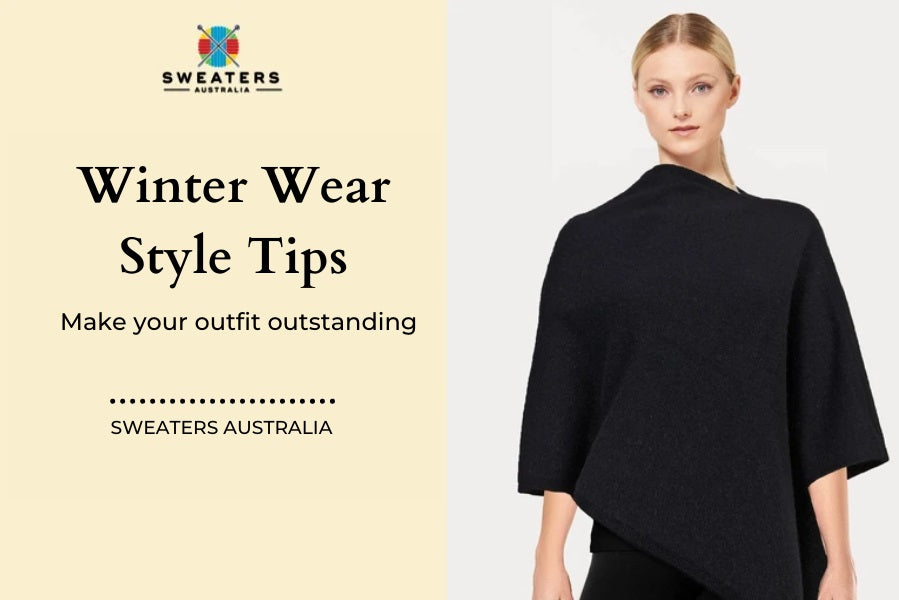 Winter wear style tips – Make your outfit outstanding
Dressing to impress during the Australian winter months can be tricky, especially in the extremely cold southern parts of Australia such as Victoria, South Australia, Tasmania and parts of New South Wales. What is the one distinguishing rule for winter wear Australia? Woolen layers of course!
Nowadays, knitwear suppliers like Sweaters Australia have amped up their designer style to offer high-fashion, luxuriously warm winter clothing for the best outfits on any chilly day. Women's winter wardrobes and mens winter wardrobes can now be easily stocked with quality woolen clothing to rely on as the days get cooler and windier.
Most Wanted Winter Wares Woolen sweaters are indeed the hype and are the most popular choice as an Australian winter staple. With plenty of variety in woolen sweater shape, weight, neckline and size every man and woman can find their perfect winter jumper for a trending winter look.
Winter Wear for Men – Top Sellers
Men's woolen half zip sweater or half zip polo
There is something deeply attractive about the half-zip wool sweater design. Men love the ability to enjoy complete neck coverage if needed or open the half zip for flattering detail. Sweaters Australia offers a handsome range of mens half zip sweaters and half zip polo jumpers in various weights, classic mid-weight Tradewinds by Ansett, super fine merino wool or cashmere merino blend.
Men's woolen V neck jumper
V for versatile. It may seem obvious that mens woolen v neck jumpers are a top recommendation for winter fashionwear and with more colour choices, yarn options and sizes, it's never been easier to create an outstanding winter outfit. V neck mens jumpers are perfect to pair with jeans and sneakers for a relaxed look, or with chino pants and boots for any business meeting or social event. V neck jumpers are a great layer under a denim or leather jacket, overcoat or blazer. Every Australian Man's winter wardrobe must sport a V neck knit or three.
Geccu 3D multicolour knit zip jacket
With a sudden move towards bolder and brighter mens winter fashion, it is no wonder the exclusive Geccu 3D jackets from Sweaters Australia are trending big time. Originally made by Coogi Australia, these 3D knits are incredibly warm and made using 100% premium Australian merino wool. For a winter outfit, these eye-catching, flattering and unique mens woolen jackets are the perfect winter ware.
Winter Wear for Women – Top Sellers
Women's woolen ponchos and cape wraps
Gorgeously warm and available in an array of colours, lengths and patterns, women's premium wool ponchos and wraps are proving to be a must-have this winter season. Truly versatile, quality possum merino poncho or wrap from Sweaters Australia are worn over sweaters, to create an women's winter outfit that oozes style, confidence and comfort. In Australia and worldwide, a women's winter wardrobe is not complete without a beautiful poncho, knitted wrap or cape wrap.
Women's woolen zip cardigan
For a tidy and chic look, women are opting for feminine zip cardigans in their Australian winter wardrobes. In luxe possum merino blends, fitted zip knit cardigans are easy to dress up or down, making them an excellent choice for office attire, dinner events and more. Sweaters Australia has curated a range of the finest quality women's wool cardigans in attractive colours, two tone and even tartan trim for added detail.
Women's merino t-shirt
Why is a t-shirt on the list for a women's winter clothing top pick? Quality merino wool t-shirts keep you warm at the core whilst allowing some winter sun to find your skin. An ideal item to wear under your favourite woolen coat, cardigan or jacket on a winter day in Australia. The range of premium quality merino t-shirts at Sweaters Australia include feminine neutral colours to suit every style seeker. Add short sleeve, 3/4 sleeve or full-length merino t-shirts to you wardrobe for hassle-free outstanding winter outfits.
Winter Clothes Online Shopping
We have listened to our customers and have taken steps to make online winter clothes shopping better than ever this season at Sweaters Australia.
Our recently updated range is bursting with quality knitwear at affordable prices. In fact, we have winter clothes on sale in almost every knitwear collection on our platform; including woolen jackets, sweaters, scarves, ponchos, cardigans, beanies, throws and more. High fashion and high-quality women's winter ware and mens winter clothing are our specialty and we are confident you'll find your new favourite knitwear online.  
For the ultimate convenience, we encourage our loyal shoppers enjoy our online store this winter. Browse true-to-life product photos with zoom functionality and detailed descriptions. COVID-19 has allowed us to increase our online offerings to benefit our customers in Australia and worldwide. Expect swift order and dispatch processing as well as friendly customer assistance on any online enquiries.
Winter clothes shopping, sorted at Sweaters Australia.