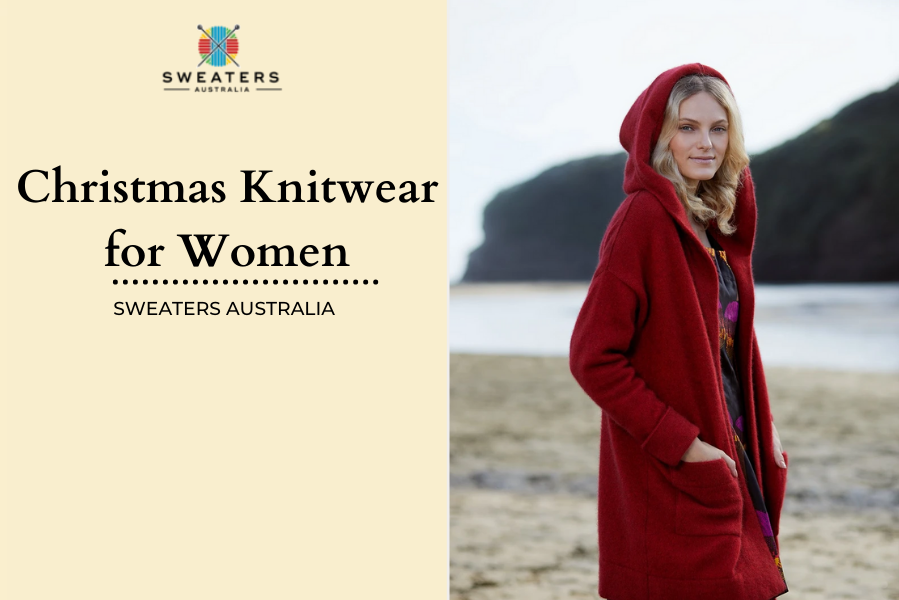 Top 5 Christmas Knitwear for Women - Sweaters Australia
We sense an extra special Christmas coming on for 2021. After time apart from family and friends, you will want to look and feel you best in fashionable knitwear that reflects Christmas cheer. We have curated a list of top 5 women's Christmas knitwear items that will keep you on trend and comfortable this holiday season. Each of our recommendations will also make an ideal Christmas gift for her this season.
Nothing feels more luxurious than slipping on a possum merino poncho. Women adore these quality knitted ponchos because they are flattering, cosy and can be easily paired with a skirt, jeans, capri pants or otherwise. The mulberry silk component of these possum merino ponchos on sale, makes them comfortable to wear all day or night on Christmas or for any other special event. This berry colour combination picks up the warm red tones of this season and any women will ooze sophistication in a possum merino poncho. Ponchos are also the best women's Christmas gift, as they will last many years and one size will fit most.
This piece of superb designer knitwear has Christmas written all over it. A sumptuous shade of red and a cardigan to compliment any outfit including a dress, skirt, tights, two-piece. Crafted from a lavish combination of possum fur and merino with pure mulberry silk this hooded style jacket can be 'cool and casual' with flat shoes or fabulously understated with some high heels. As everyone in Australia knows, the Christmas weather forecast is unpredictable. Having a beautiful jacket with you for the festivities is essential. Want to gift quality women's knitwear to a special someone? This Red possum merino hood jacket will be appreciated by any fashion lover for a long time.
A favourite women's 100% pure merino wool shawl is this one, and now it's on sale for Christmas. Whether you want to wear it, gift it or both, this is a versatile stylish shawl that would suit anyone. This red shawl is gorgeous all year round, light enough not to weigh you down, but warm and breathable to fend off windy chills. Merino wool shawls can be worn over one shoulder, both shoulders, around the neck like a scarf or anyway that feels comfortable. Measuring 168cm by 70cm this a generous, high quality textured shawl that you will simply love for Christmas and all year round.
The 3D Geccu knitwear range is all about JOY. Befitting of Christmas fashion 2021, after a difficult couple of years, wearing a bright quality knit this holiday season is sure to suit any woman. As a sweater, this tailored, hand crafted merino knit offer flattering vertical textured pattern and detail on the cuff and necklines. If you prefer a versatile design and you may choose to buy the merino Geccu bright cardigan. Christmas jumpers tend to be a 'wear once' garment, but the exclusive 3D Geccu sweaters will become a beloved piece of fashion to wear throughout the year, for many years. As Christmas presents for her, 3D Geccu jumpers and cardigans have been a long-time favourite. Now on sale, it is a perfect time to buy women's knitwear for Christmas.
If you are wondering what to wear for Christmas 2021, you will look the part and feel superb in a merino t-shirt. Designed with a raglan sleeve, lightweight and available from XS to XXL, every woman will love the feel of wearing this stylish t-shirt. For Christmas and the holiday season, the Cayenne red colour is ideal, otherwise the neutral tone options can be paired with a red knit shawl or red knot scarf to add spirit to your outfit. Merino t-shirts are the hype all over the world, not only for their luxurious wearability but also for their versatility. Dress these up with the addition of a necklace or chunky bracelets and a skirt or dress it down with some casual pants and flats. A merino t-shirt makes for a classic and thoughtful Christmas present for her.

You have read our top 5 Christmas knitwear fashion ideas but with our wide range of quality knitwear, feel free to discover your own perfect holiday outfit.
Feel and look your finest this Christmas in designer knitwear that is made to enjoy.
Take advantage of our free and fast delivery options by buying all your holiday attire or Christmas gifts in one place. Whether you are looking for your new women's knitwear outfit or wanting to buy mens fashion knitwear for a special someone, our range of quality knitwear will impress. Sweaters Australia is the perfect place to shop for fashion this Christmas.