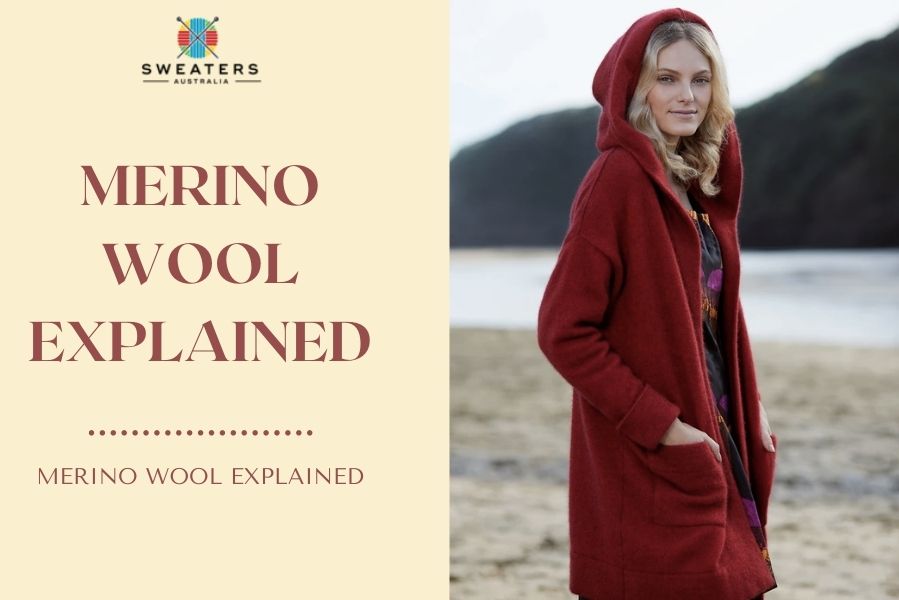 Merino Wool Explained - Properties, Facts & Benefits
Merino wool and more specifically, Australian merino wool is one of the best wools in the world.  It is very fine in weight whilst being extremely soft as well. Merino Wool comes from the merino sheep. It is a natural fibre, meaning that it comes from a natural source and it is not synthetic – not man made.
Due to its softness and fine-weight, it is the perfect yarn to use when making a woolen jumper.
When most people are looking for online women's knitwear and looking for that perfect wool jumper Australia, they are generally in search for a merino wool sweater.
Both locals and international customers are always asking, do you have merino wool sweater?
Being such a luxury, warm and soft wool, we have merino wool sweater men's and merino wool sweater women's.
Merino sweater are better than other wool sweaters because they are machine washable (of course you must follow the washing instructions). Wash your merino sweater men's or merino wool sweater women's in cold water and lay flat to dry. Never let your merino wool sweater or any wool jumper Australia be washed in hot water or tumble dryer – this will cause your woolen jumper to shrink.
When looking for online knitwear Australia, the perception of merino wool sweater is that they are very expensive. This is incorrect. Some brands selling men's merino sweater and women's merino wool sweater do charge a lot for merino wool sweater. If you shop around for online knitwear Australia however, you can do comparisons and find that perfect Australian woollen jumper or merino sweater for the right price. 
When buying a merino sweater, I have been asked what is better, cashmere sweater men or merino wool sweater. Cashmere is the yarn which comes from the hair of the goat, whilst merino wool comes from the merino sheep. Cashmere generally comes from China or Mongolia, whilst ~80% of the worlds fine merino wool comes from Australia. Cashmere jumpers are very soft and luxurious, but thicker than a merino wool sweater and also more expensive. Cashmere jumpers for men also provide more warmth than a wool jumper Australia. Cashmere knitwear have to be treated and washed a little more carefully than a woollen jumper.
Merino wool is world famous. When customers are looking online women's knitwear for a woollen jumper or wool jumper Australia, they are always asking, is it a merino wool sweater. 
Lots of people are not familiar where the name merino sweater comes from, but they are told to shop for a merino sweater men's or merino wool sweater women's when they are ready to buy a merino wool jumper from Australia. Merino wool is world famous, because as mentioned earlier, it is super soft and super fine weight. Because of those two reasons, when people are shopping online knitwear for merino wool sweater, they may be looking for merino wool products that are not Australian woolen jumpers. Merino wool is also use is high performance active wear and next-to-skin clothing – perfect for bicycle riders, mountain climbing, skiing, fishing, jogging… 
Merino wool is an amazing technology not only for a merino sweater but many other merino wool clothing products. With woollen jumpers, people are unsure of how often to wash them. A merino wool sweater is different to normal wool jumper Australia. 
When washing a merino sweater men's or a merino wool sweater women's, I often say, as a merino sweater is a natural fibre, you can leave it on a chair in the outdoors and let the fresh air deodorise it. If the merino wool sweater is dirty, you can wash it in the machine on a wool cycle – this will mean cold to mild temperature water and a slow spin cycle.
It is also best not to wash your woollen jumper with too many other garments in the machine, as the more that rub on it, the more chance of the merino wool sweater pilling. And when drying your online knitwear Australia, please lay it flat to dry. Do not place your wool jumper Australia in the dryer or it will shrink. You can view a good guide on how to dry a woolen sweater here.
Do you like merino woolen sweaters? Do you have any tricks of how you wash and look after your woolen sweaters?